This Week's Concert Line-up at Jazz Central Studios (June 25th – July 1st)
Monday Night Featured Artist & Jam Session | 8:30 – 11pm
$10 admission. $5 with a student ID or musicians with instruments.
Featuring:
Park Evans – Guitar
Cody McKinney – Bass
Greg Schutte – Drums
JAM SESSION | 10 – 11PM
Hosted by Monday's Featured Artist following the first set.  All are welcome and encouraged to participate regardless of experience level.
Tuesday Big Band | 8:30 – 10:30pm
$10 admission. $5 with a student ID.
The Twin Cities Latin Jazz Orchestra is back at Jazz Central Studios doing their monthly (4th Tuesday) open rehearsal.
Featuring 18 of the Twin Cities's top musicians, the areas sole Latin Jazz Orchestra is led by trumpeter Geoff West Senn and percussionist Mac Santiago. They will be performing some of the most intensely rhythmic and dynamic music that the jazz genre has to offer. This music has been a part of the American scene since Jellyroll Morton's "Latin Tinge" and has to be experienced live to be believed!
Wednesday New Boundaries | 8:30 – 10:30pm
$10 admission. $5 with student ID.
John C.S. Keston and Cody McKinney present: Sound / Simulacra: A monthly series which explores musical improvisation as a "faithful and intentionally distorted" representational process. Sound / Simulacra brings together some of the Twin Cities most unique voices to "recreate, distort, and create the hyperreal."
Set I – Zosha Warpeha solo (violin, voice, electronics)
Set II – Zosha Warpeha (violin, voice, electronics) + John Keston (piano, Rhodes, synthesizers, electronics) + Cody McKinney (bass, voice, synthesizer, electronics)
Thursday Vocal Night | 8 – 10pm
$10 admission. $5 with student ID.

Aja Parham, joined by Kenneth Garnier on Bass, Noah Tankersley on Piano, Jordan Hays on Drums and Ben Boussieres on Guitar, loves to give something new to every audience. This performance will feature special guest, a recent 2018 St. Paul Academy and Summit School Graduate, JJ Wertkin on guitar. A native to the Twin Cities, Aja has had a life long list of performance achievements, including graduating from The University of Minnesota- Twin Cities, earning a Bachelor of Music Degree in Vocal Performance. After graduation, she performed with the Minnesota Opera, Penumbra Theatre, and Ordway Center for the Performing Arts. After a time, Aja rekindled her love of Jazz, R&B, and Motown, and started performing as a freelance vocalist throughout the Twin Cities.
Friday illicit Jazz Workshop Presents | 7 – 10pm
$10 admission. $5 with student ID.
7:00pm Improvisational Invitational
Featuring:
Steve Kenny – Trumpet
Scott Fultz – Baritone Saxophone
Chris Hepola – Drums
Charlie Lincoln – Bass
8:30pm King / Cartwright / Granowski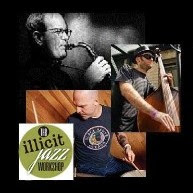 Featuring:
Dave King – Drums
George Cartwright – Saxophones
Josh Granowski – Bass
About The illicit Jazz Workshop:
The illicit Jazz Workshop is a weekly Jazz concert series with performances every Friday at 8:00pm at Jazz Central Studios in Minneapolis. The series is produced by www.illicit-productions.com and curated by Steve Kenny. more information can be found at www.theillicitjazzworkshop.info
Follow The illicit Jazz Workshop on Facebook:
www.facebook.com/pg/TheillicitJazzWorkshop/
Sunday Special | 6 – 8pm
$15 admission

Featuring:
Dave Rempis – Saxophone
Brandon Lopez – Bass
https://www.daverempis.com/
http://www.brandonlopez.nyc/